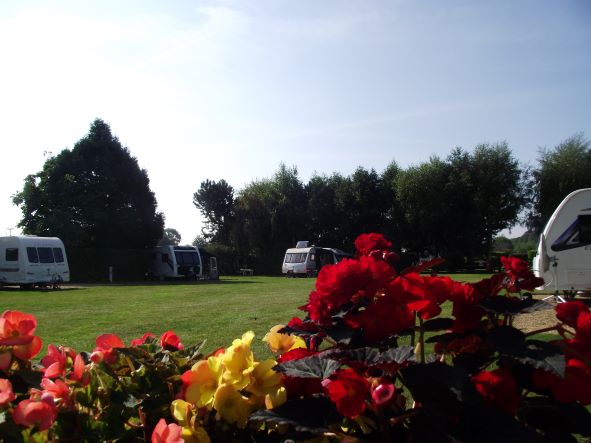 OUR BOOKING TERMS
The minimum charge is for a 2 night stay. 
Bank holidays - minimum 3 nights (4 nights on Easter weekend)
Arrivals
We will be delighted to greet you on arrival after 2.00pm by which time your pitch will be prepared and ready for you!  Entry to the site is controlled by a coded fob. Please walk down the Keal Lodge driveway to the office to collect this and to check in.
Fees
2022 - Pitch fee £25.00 per night includes: 2 adults, fully serviced pitch, electricity, awning and free Wi-fi. £3.00 per additional adult.
Pitches
All CL pitches are hard standings as are ten of the eleven pitches on Keal Lodge Park.  All pitches have an electric hook up, individual waste drains and dedicated fresh water supply (your own mains water adapters are required or just use your water barrel as normal). Awnings are permitted but we ask that there are no ground sheets on the grass pitch. Windbreaks may be erected at the edge of your hardstanding (no more than 10cms onto the grass) to allow all visitors space and privacy.
Payments
Our preferred method of payment is bank transfer (BACS). For alternative methods please contact us. Full payment for the pitch is due 14 days before arrival.
Deposits
 1 to 3 nights: Full Payment (minimum charge 2 nights)
 4 to 5 nights: £75.00 
 6 to 7 nights: £100.00 
 Over 7 nights: £50.00 per additional week or part week thereafter 
Bank Holidays
Minimum 3 nights booking (4 nights at Easter and Jubilee weekend), full payment on booking please.
Cancellations
In the event of cancellation, our terms are:
Prior to 28 days before your arrival date, an administration fee of £15 will be deducted from your deposit and the balance will be held for up to 12 months from the booked period.
If cancellation is within 28 days of arrival date, no refunds will be given.
We are sure that you will understand that this policy is necessary as late cancellations can leave us with empty pitches which could have been occupied.